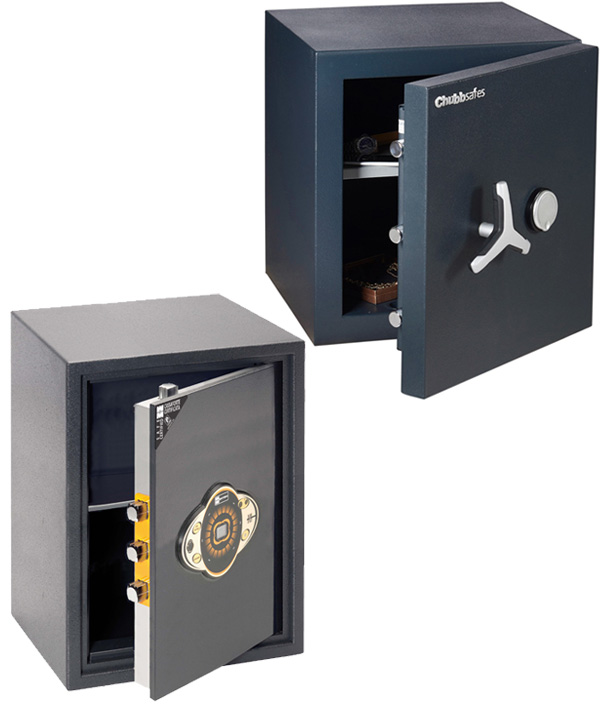 Our Black Wolf guide for picking a new Chubb or Mottura safe for the home or business.
To find out which product is most suitable for your security requirements you need to answer the following questions:
Q1. What do you want to protect?
Answer. Cash, valuables, documents or date media.
Q2. What's the volume or size that you want to protect?
Answer. Having done this, you can either choose from BRE (Burglary Resistant Equipment) or FRE (Fire Resistant Equipment) products.
The BRE range
The BRE range includes safes, cabinets and vaults designed to protect cash and valuables. Available in differing sizes and specifications our safes offer optimum protection for up to £150,000 or £1,500,00 in valuables.
The FER range
The FER range includes files and cabinets designed to protect against fire. You can either protect data media or documents and in some cases a mixture of both. These products are rated according to their level of fire protection.
Cash rating is "The amount an insurance company will cover in a safe/cabinet overnight"
The actual amount of cover can vary between insurance companies and locations and may be different to the manufacturers recommended rating. If this is important to you, you should check what cover your insurance company will offer*.
As a general rule, this rating is multiplied by a factor of 10 for jewellery. Hence, a Duogaurd Grade 1 with a cash rating of £10,000 will store jewellery in domestic circumstances worth up to £100,000
Measured through tests carried out by independent testing authorities.
"The longer the period in minutes, the greater the fire resistance offered. The critical temperature before paper documents combust is 177°C. Whereas, data media is damaged at temperatures over 52°C or humidity over 85%"
Care should be taken to ensure the test certificate held by the equipment is applicable to modern media i.e. a DIS label.
* NB to conform to the certified standards, safes weighing less than 1,000kg should be based fixed into a solid concrete floor (recommended C25 concrete mix). Please check with your insurance company to confirm that the installation meets with their approval.
Mottura Safe product information
Mottura products have always been designed and manufactured with the most stringent quality control requisites, with rigorous production and testing procedures in the pursuit of superlative security.
As a demonstration of the company's quest for quality, it's PERSONAL series built in safes (with key, key+combination and electronic variants), and its NO PROBLEM, CONCRET, CASH and UNDER safes have all been certified by the ICIM institute, and the respective locks have all attained UNI EN 1300 GRADE A certification.
This is an important and authoritative acknowledgement which, through physical testing by a third party (ICIM), certifies the quality and reliability of these products and their compliance with the standard UNI EN 14450.
The range has been extended with the addition of new models with even more stringent safety certification. These models are now certified as grade S2 – the highest rating envisaged by the relative standard UNI EN 14450 – compared with the grade S1 rating of former models.
All new models feature contoured bolts with a design representing the registered trademark of the company. The new ROTARY model has been added to the personal series. This model features a rotary electronic combination system that echoes the layout of classic mechanical coaxial wheels, reinterpreted in a more contemporary design.
Completing the range is a version with a four-dial mechanical combination system, which significantly increases the number of possible combinations. This is a significant achievement which not only recognises the expertise of the company overall, but also the confidence that Mottura customers have continued to demonstrate in Mottura products for so many years.
All the models in the home safe range are made in Italy.